Live Online Course 2021 Jan - Apr Sat Live Online
$1,499
Price shown above does not include the $99 LSAC Prep Plus fee. If you already have a subscription, you'll have a chance to remove the $99 fee after you click "Enroll Now"
Schedule

Saturdays
10 - 1pm PT
1 - 4pm ET

And Suggested Practice Exams

See full schedule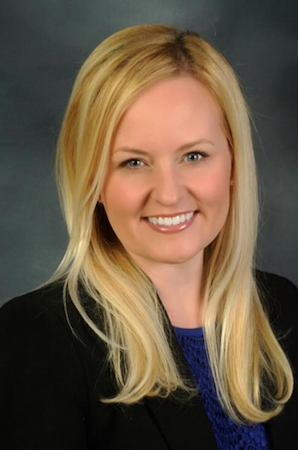 Flash Sale! Save $300 on all Live Online classes with code LSATFLASH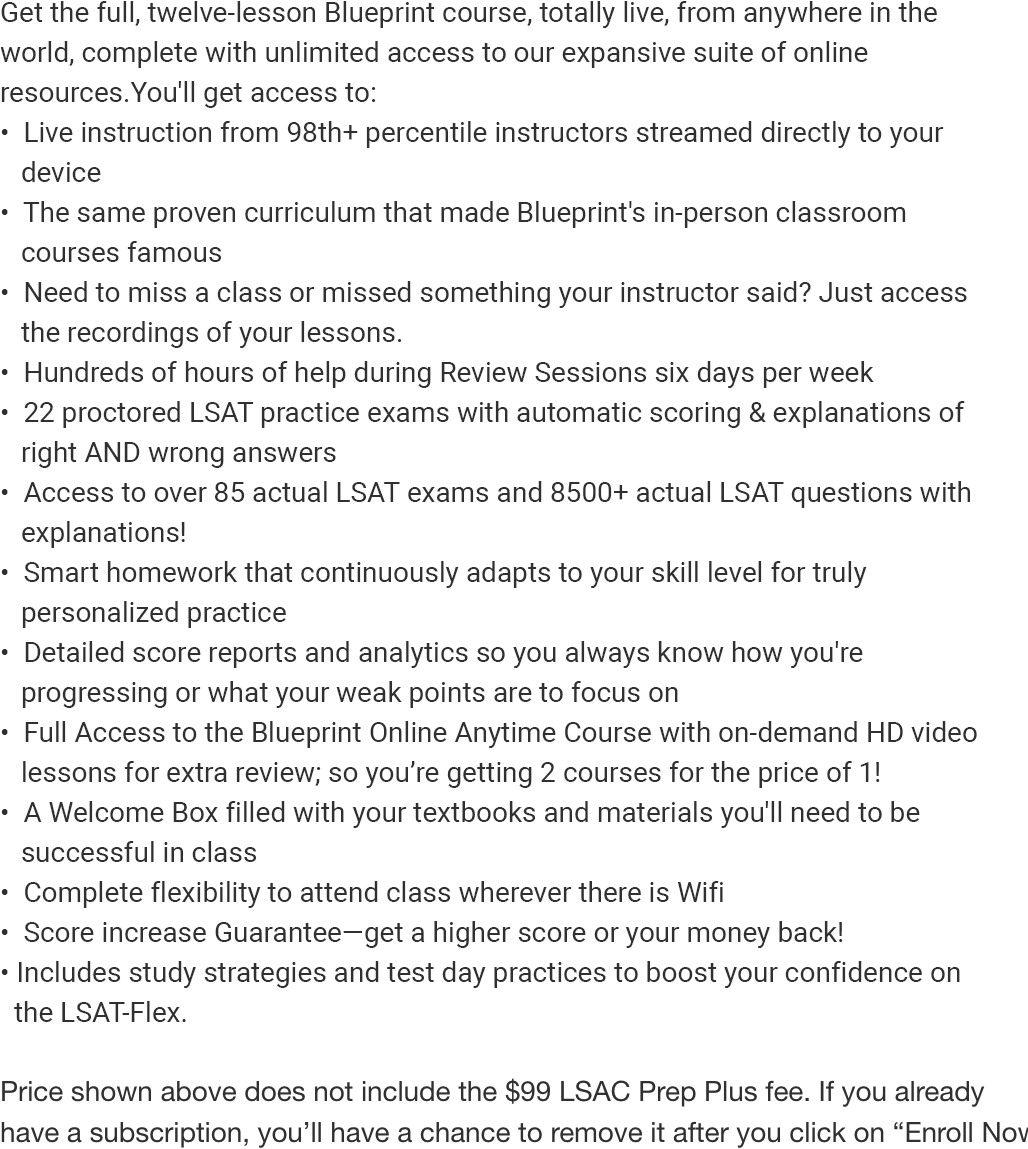 Jan 14

Practice Exam 1 (complete any time before the first class) 10:00 AM - 2:00 PM (suggested time)

Jan 16

Lesson 1 10:00 AM - 1:00 PM PT

Jan 23

Lesson 2 10:00 AM - 1:00 PM PT

Jan 30

Lesson 3 10:00 AM - 1:00 PM PT

Feb 06

Lesson 4 10:00 AM - 1:00 PM PT

Feb 13

Lesson 5 10:00 AM - 1:00 PM PT

Feb 18

Practice Exam 2 (complete any time before the next class) 10:00 AM - 2:00 PM (suggested time)

Feb 20

Lesson 6 10:00 AM - 1:00 PM PT

Feb 27

Lesson 7 10:00 AM - 1:00 PM PT

Mar 06

Lesson 8 10:00 AM - 1:00 PM PT

Mar 12

Practice Exam 3 (complete any time before the next class) 10:00 AM - 2:00 PM (suggested time)

Mar 13

Lesson 9 10:00 AM - 1:00 PM PT

Mar 20

Lesson 10 10:00 AM - 1:00 PM PT

Mar 27

Lesson 11 10:00 AM - 1:00 PM PT

Apr 01

Practice Exam 4 (complete any time before the next class) 10:00 AM - 2:00 PM (suggested time)

Apr 03

Lesson 12 10:00 AM - 1:00 PM PT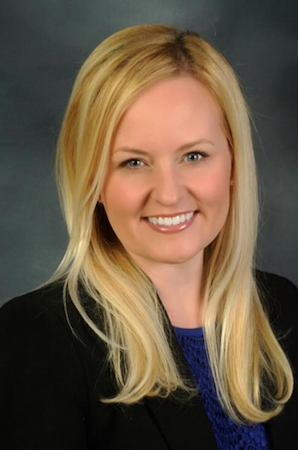 Jenny Steiger
LSAT: 174
Education: UT Austin (JD/MBA), Stanford (BA, Political Science)
Jenny graduated with a BA in Political Science from Stanford University, where she was cheerleader. To kill some time between football games, she picked up a prep test and ended up snagging a 174 on the LSAT and a JD/MBA from UT Austin, where she was the Editor in Chief of the Texas Journal of Women and the Law.
Not one to shy away from prepping for a high stakes exam, Jenny has passed the bar exam in both California and Texas. She practiced law as a mergers and acquisitions associate for more than 7 years, including a two-year stint in Tokyo where she learned that a magnitude 9.0 earthquake is no excuse for leaving the office early and that sushi is a perfectly acceptable breakfast food. 
Jenny recently hung up her Big Law spurs and dusted off some dry erase markers in anticipation of her return to the Blueprint classroom--she has taught LSAT and GMAT courses for over 7 years and is a veteran at helping students raise their scores. 
With a compassionate and indefatigable commitment to teaching, Jenny is a veritable cheerleader for her students. You can expect her to be patient, approachable, and kind hearted. If you perform really well, pirouettes and high kicks might not be out of the question, either.