Live Online Course Accelerated 2021 Mar - May Mon/Wed Live Online
$1,499
Price shown above does not include the $99 LSAC Prep Plus fee. If you already have a subscription, you'll have a chance to remove the $99 fee after you click "Enroll Now"
Schedule

Mondays/ Wednesdays
4 - 7pm PT
7 - 10pm ET

And Suggested Practice Exams

See full schedule

Instructor
Currently Not Assigned
Accelerated courses are like our normal classes, just kicked into high gear. You may meet twice a week, moving through material a bit faster, to make the most out of your LSAT prep time.
On a break from school or work? The Accelerated Course will get you LSAT-ready in a short period of time.
Still working or taking classes? All good! You'll just have to budget 2-4 hours in between each class, plus an extra 4-8 hours on the weekends, to keep up with homework and exams.
No shortcuts here! None of the material in our normal-paced Live Online classes is glossed or skipped over in Accelerated Courses.
You're not alone. You have an entire team of Study Buddies, Student Advisors, and your class TA and instructor ready to lend a hand. Plus you have access to Review Sessions with live instructors up to six days/week.
If you find you're not ready to take the LSAT at the end of your class, no worries! You'll have access to your myBlueprint account for 30 days after your final lesson, so you can register for a later LSAT if you need to!
Accelerated Courses come with the same resources that are available in our normal-paced Live Online Courses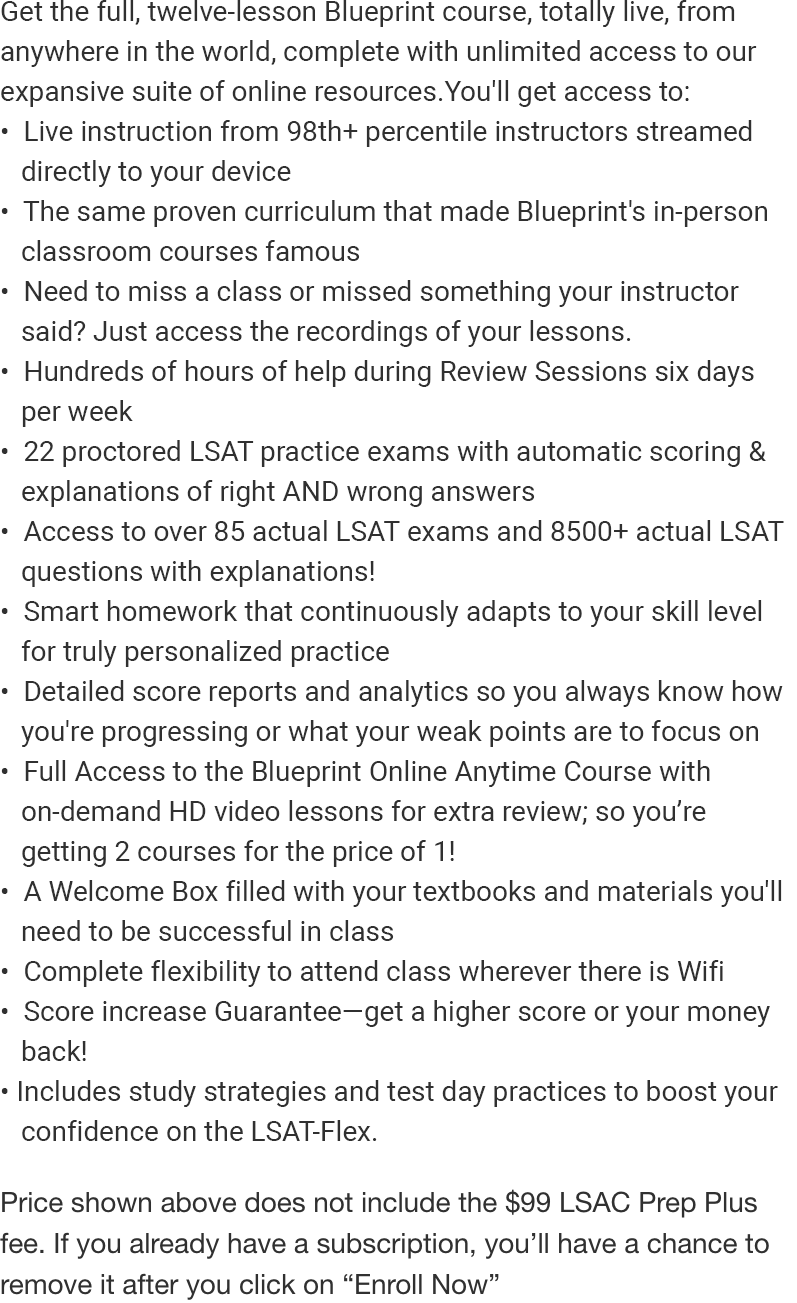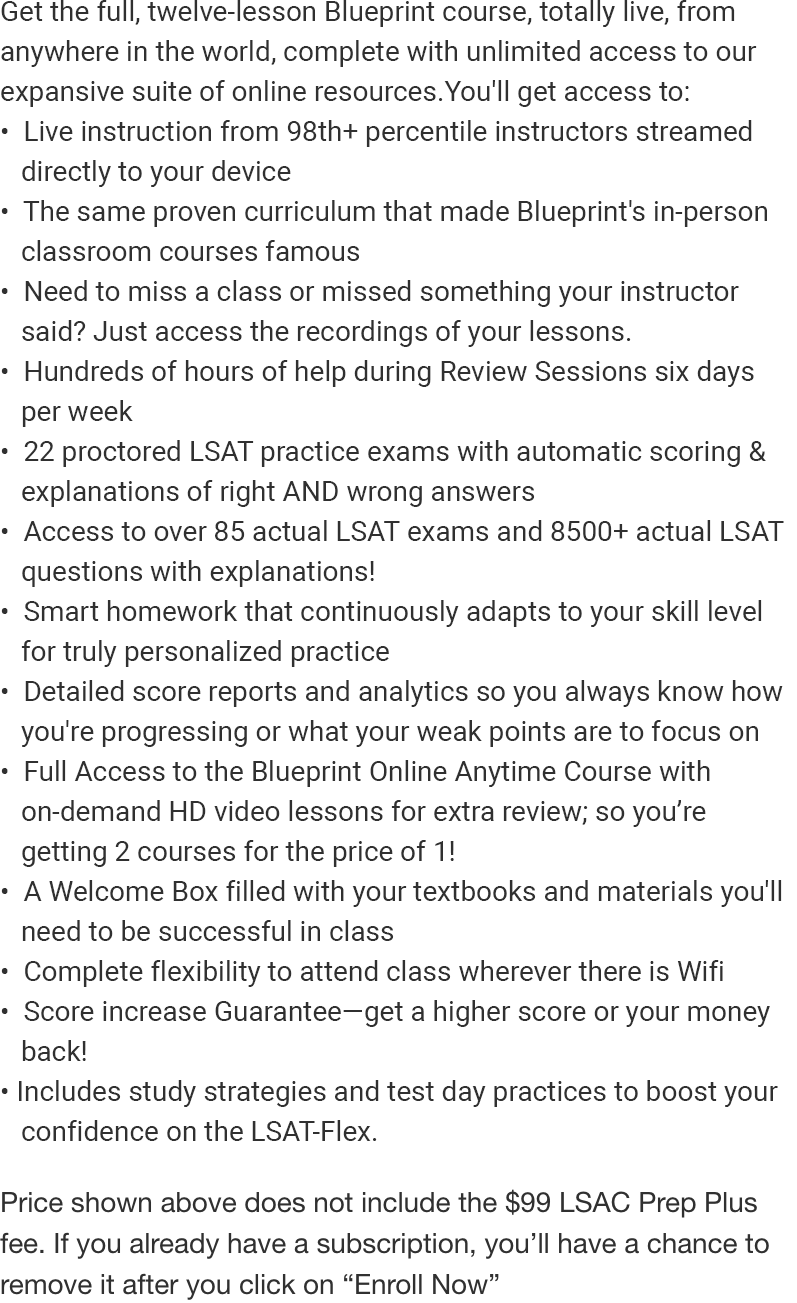 Mar 20

Practice Exam 1 (complete any time before the first class) 10:00 AM - 2:00 PM (suggested time)

Mar 22

Lesson 1 4:00 PM - 7:00 PM PT

Mar 24

Lesson 2 4:00 PM - 7:00 PM PT

Mar 29

Lesson 3 4:00 PM - 7:00 PM PT

Apr 05

Lesson 4 4:00 PM - 7:00 PM PT

Apr 12

Lesson 5 4:00 PM - 7:00 PM PT

Apr 14

Lesson 6 4:00 PM - 7:00 PM PT

Apr 17

Practice Exam 2 (complete any time before the next class) 10:00 AM - 2:00 PM (suggested time)

Apr 19

Lesson 7 4:00 PM - 7:00 PM PT

Apr 26

Lesson 8 4:00 PM - 7:00 PM PT

May 03

Lesson 9 4:00 PM - 7:00 PM PT

May 08

Practice Exam 3 (complete any time before the next class) 10:00 AM - 2:00 PM (suggested time)

May 10

Lesson 10 4:00 PM - 7:00 PM PT

May 12

Lesson 11 4:00 PM - 7:00 PM PT

May 17

Lesson 12 4:00 PM - 7:00 PM PT

May 22

Practice Exam 4 10:00 AM - 2:00 PM (suggested time)

Currently Not Assigned
Instructor Default Account