Live Online Course Accelerated 2021 May - Aug Sun/Wed Live Online
$1,499
Price shown above does not include the $99 LSAC Prep Plus fee. If you already have a subscription, you'll have a chance to remove the $99 fee after you click "Enroll Now"
Schedule

Sundays
11am - 1:30pm PT
2 - 4:30pm ET

Wednesdays
4 - 6:30pm PT
7 - 9:30pm ET

And Suggested Practice Exams

See full schedule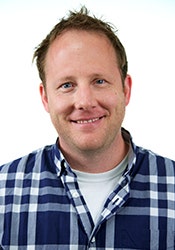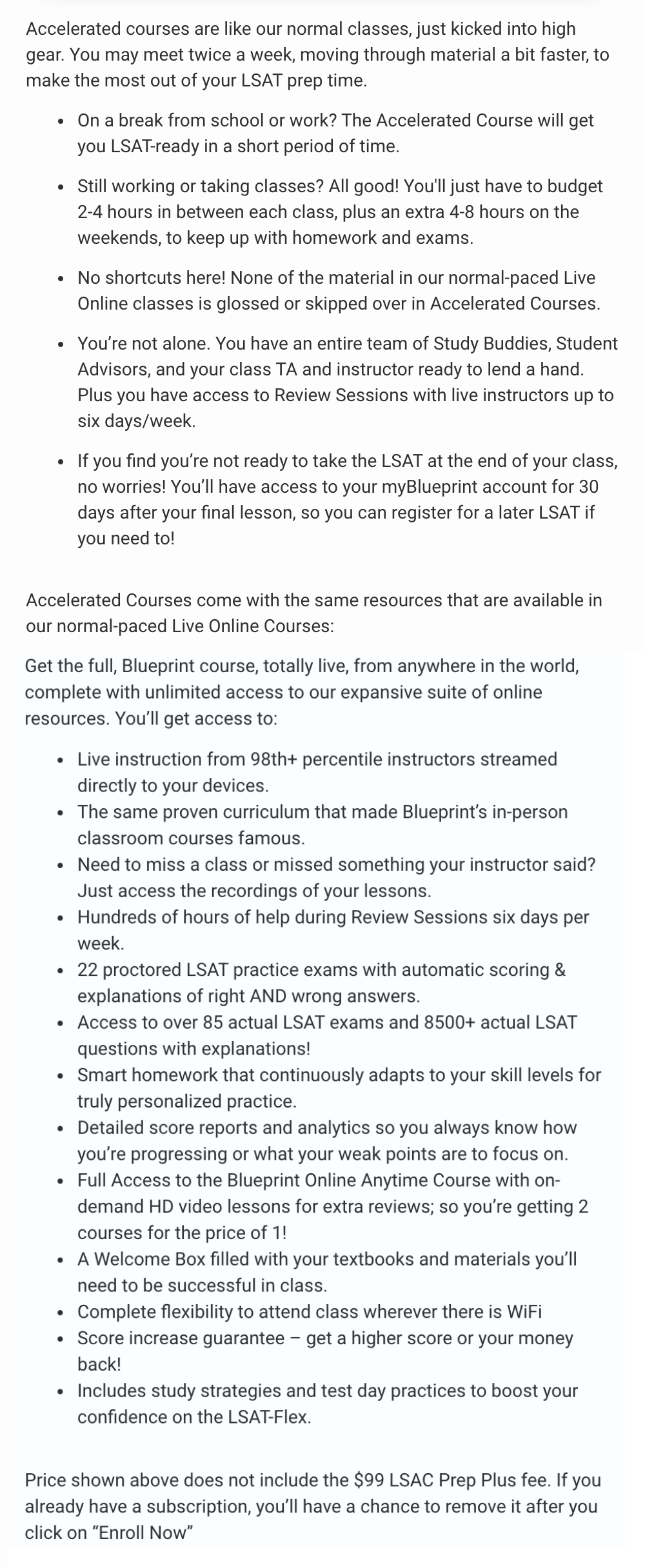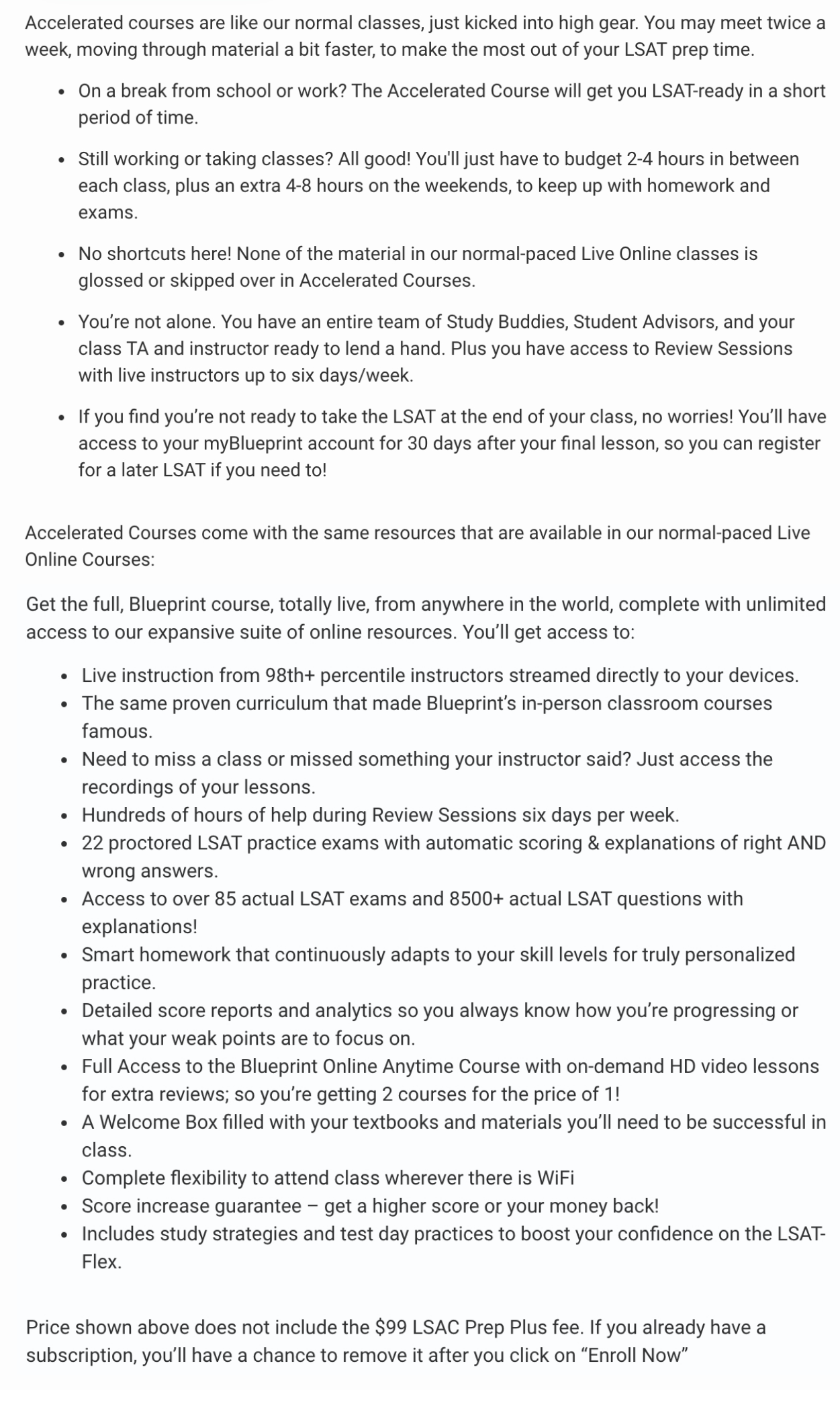 May 28

Practice Exam 1 (complete the week before your first class) 10:00 AM - 2:00 PM (suggested time)
May 30

Lesson 1 11:00 AM - 1:30 PM PT
Jun 06

Lesson 2 11:00 AM - 1:30 PM PT
Jun 09

Lesson 3 4:00 PM - 6:30 PM PT
Jun 13

Lesson 4 11:00 AM - 1:30 PM PT
Jun 20

Lesson 5 11:00 AM - 1:30 PM PT
Jun 23

Lesson 6 4:00 PM - 6:30 PM PT
Jun 27

Lesson 7 11:00 AM - 1:30 PM PT
Jun 30

Lesson 8 4:00 PM - 6:30 PM PT
Jul 07

Lesson 9 4:00 PM - 6:30 PM PT
Jul 11

Lesson 10 11:00 AM - 1:30 PM PT
Jul 18

Lesson 11 11:00 AM - 1:30 PM PT
Jul 21

Lesson 12 4:00 PM - 6:30 PM PT
Jul 25

Lesson 13 11:00 AM - 1:30 PM PT
Aug 01

Lesson 14 11:00 AM - 1:30 PM PT
Aug 04

Lesson 15 4:00 PM - 6:30 PM PT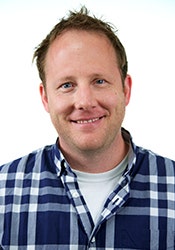 Chris Whyte
LSAT: 171
Education: Loyola Law School, J.D.; California State University, Fullerton, B.A., Communications (Journalism)
Chris is a veteran Blueprint instructor and tutor who has helped hundreds of students improve their LSAT scores since 2015. Before becoming one of Blueprint's most sought-after tutors and instructors, Chris took a unique route to the world of law and law school admissions tests. After graduating Cal State Fullerton, Chris spent three years working as a music journalist, interviewing the likes of Outkast, Jane's Addiction, and Weird Al.
Chris eventually decided to switch things up and pursue a legal career. Chris graduated from Loyola Law School in 2006 and became a well-respected litigator, recognized by Super Lawyers' Rising Stars multiple times before opening his own legal practice in 2015. If all that wasn't enough, Chris decided to start teaching the LSAT too, and has been one of Blueprint's busiest instructors over the past five years. Chris's experience with diverse personalities — from eccentric rock stars to stodgy judges — gave Chris the patience and persistence to help anyone studying the LSAT. When not teaching the LSAT or playing with his kids, Chris enjoys strumming '90s emo songs on his guitar, cheering on the LA Galaxy, or watching high-brow television with his wife like Big Brother or Bachelor in Paradise.
Fun Facts: Chris was recognized by Super Lawyers' Rising Stars list in 2009, 2013, 2014, and 2017.
Here is what some students have said about him:
"The LSAT can be an extremely daunting hurdle for almost all aspiring attorneys. However, Chris's uplifting demeanor, constant support, and regular assurance can truly help almost any student feel confident in confronting this hurdle head on. He uniquely breaks down any issue you may have and helps simplify it, as well as find a strategic approach on how to overcome it. I looked forward to meeting with Chris, and he truly helped me better understand the LSAT."