Retaking the LSAT
How to know if you should retake the LSAT, how to retake the LSAT, and when to retake.
Picture yourself about a month after your LSAT test day. You're refreshing your email for the 50th time that day, anxiously awaiting your LSAT score, and when you finally get it - you received a low lsat score - those three digits don't add up to the score you hoped for. Or perhaps they did, but you know you can do better. You start wondering if you should take the LSAT again.
Retaking the LSAT is not a decision to make lightly. For one, it means going back to the drawing board and prepping for the LSAT exam again. On the other hand, your new LSAT score could bump up your law school application if you score higher.
So if you're considering retaking the LSAT or not sure where to start, the Blueprint LSAT Guide to Retaking the LSAT will break it all down for you!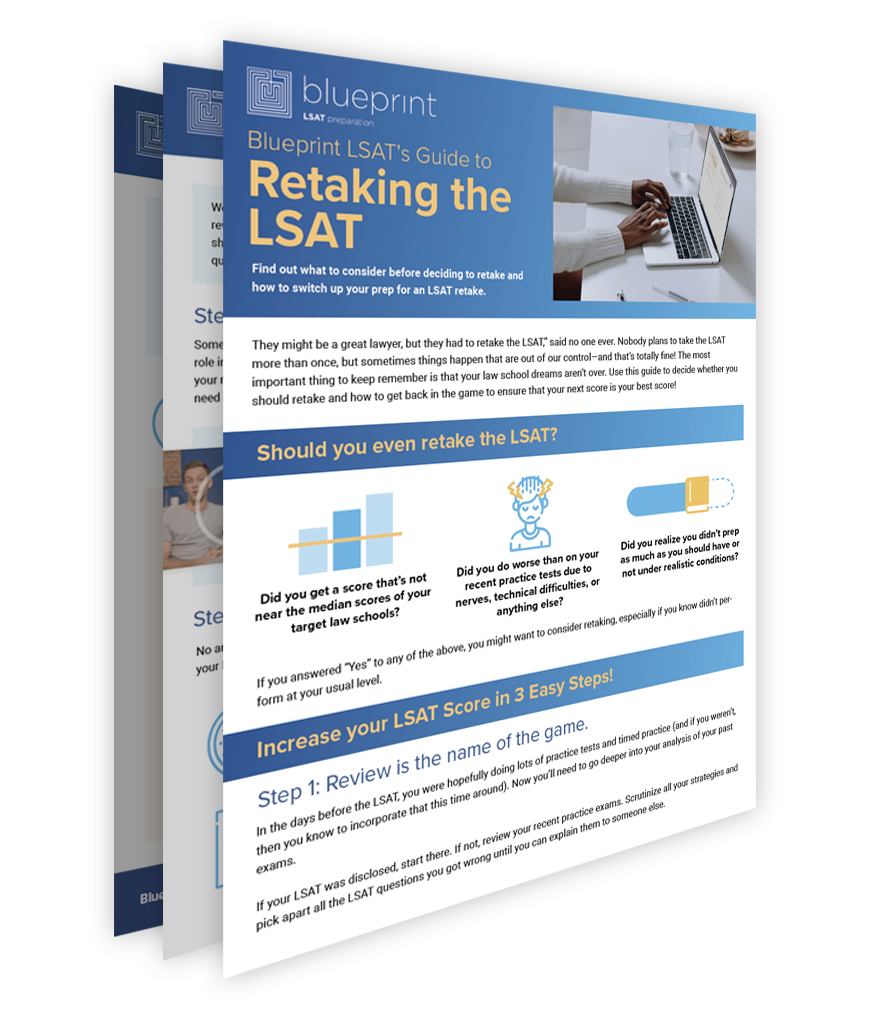 Download our Guide to Retaking the LSAT to find out how to make your next LSAT retake the last one!
Determine whether you should or should not retake.
Learn how preparing for an LSAT retake is different than prepping for the LSAT the first time and how to optimize your time efficiently.
Find out how to increase your LSAT score guaranteed!
Get your free Guide to Retaking the LSAT now!
FAQs About Retaking the LSAT
1. How many times can you retake the LSAT?

- Three times in a single testing year
- Five times within the current and five past testing years
- A total of seven times over a lifetime.

2. Is it bad to retake the LSAT?

Depends on how you look at it. There's always the risk that you're going to score lower on your LSAT retake, but this is usually the case when you go into your retake LSAT prep with the same mindset and game plan. LSAC estimates that most returning test-takers increase their score by 2-3 points—though, Blueprint LSAT students see 15-point score increases, on average, from their first practice test.

However, a law schools admission committee won't penalize you for taking the LSAT exam more than once. In fact, you could argue that seeing your growth and improvement is a testament to your work ethic and ability to bounce back. So go ahead and retake the LSAT to earn the highest LSAT score you can, if that's what's needed to give you a reasonable chance to getlaw school admission into the school you want to attend.

3. Do you need to cancel your LSAT score before retaking the LSAT?

No. Canceling your LSAT score is a separate decision, but it won't affect your retaking decision. You can retake the LSAT on test day whether or not you cancel your score.

Law schools won't see your canceled score, but they will see that you canceled it. Canceling one score won't raise any eyebrows, but canceling multiple scores is a red flag.

Plus, you could potentially cancel a good LSAT score without even knowing it! The deadline to cancel your score is within six days after your LSAT test date, far before the score release date. Unless you're a first time test-taker that purchased LSAT Score Preview, you'll never know if you would have been happy with your score until after test day.

4. Is it better to apply to law school with multiple LSAT scores or canceled scores?

In a perfect world, no one would have to take the LSAT more than once. However, the reality is many people retake the LSAT and end up with more than one LSAT score on their report. That's not terribly detrimental to your application.

Law schools will see every valid LSAT score on your report. However, almost no law school still takes an average score of multiple LSAT scores; instead, they tend to go with your highest score. Admissions officers understand people have bad days and won't bat an eye at a single retake or a cancelation. It's likely they won't treat an application with one canceled score and one retake differently than one with two reported LSAT scores.

The goal of the retake remains the same: to perform better the second time around and get a higher LSAT score.

5. Do I need to wait to get my retake score before applying to law school?

That depends. Your law school application is not complete with an LSAT score. If you're a test taker who is retaking the LSAT, you can let your law schools know you're retaking. It's possible your application review and admissions decision will be delayed until you submit your new score. This is why we suggest students take the LSAT as soon as they can, in case they end up retaking the test.

6. Do I have to pay to retake the LSAT?

Yes. An LSAT retake is the same as registering for the LSAT all over again. You'll need to register with test administration by your chosen test's registration date and pay the registration fee—the current LSAT registration fee is $200—unless you were approved for the LSAC Fee Waiver.

7. How should I prep for an LSAT retake?

LSAT prep for retaking the LSAT is slightly different that prepping to take the LSAT for the first time. Fortunately, you're not starting from Square One, so you have a slight advantage. Perhaps an LSAT Prep course or an LSAT tutor would help on test day. The first thing you should do when asking yourself "Should I retake the LSAT?" is to download the Blueprint LSAT Guide to Retaking the LSAT.

8. I'm happy with my LSAT score. What should I do next?

If you reached your goal LSAT score and don't have a lower score, then it's time to start working on your law school application! Applications open the fall (for admission the following year), but it's never too early to get the process started. Blueprint's law school admissions experts offer personalized guidance & consulting services to aspiring law students to help you get into the law school of your dreams. Click here to check out the different packages and services.
Many of our students come to us seeking help after they've decided to retake the LSAT and experience life-changing score increases!
"Dylan and Felipe were the BEST LSAT tutors I could have asked for. They were so clear and meticulous about all of the major concepts. I really feel like I lucked out by signing up for their class. I started with a 142 and ended with a 162 and a full-ride scholarship."
- Chris, Former Blueprint student
"I got a 20 point score increase and could not be happier with the result. I truly looked forward to the live sessions as I got to interact with the instructors in real time. They were not only helpful but made the process enjoyable and less scary. I will recommend Blueprint to anyone looking to score well on the LSAT."
- Anna, Former Blueprint Student
"In 2 short months, I have seen my practice test scores increase by 10-15 points. I couldn't recommend this course more. The instructors are patient, kind, & even make learning fun! Seriously, they are funny. I am so thankful to the people at Blueprint & feel confident going into my next LSAT."
- Hannah, Former Blueprint Student
"I increased my score by 15 points and credit Blueprint for getting me there. Chris and Felipe are fantastic teachers. They explain things so well and help take the pressure off. I could not have done it without them and the consistent practice and timetable that Blueprint provides."
- Theresa, Former Blueprint Student
Ready to get a higher score when you retake the LSAT?
Start by downloading your free Guide to Retaking the LSAT now!
Download the Blueprint LSAT Guide to Retaking the LSAT!