Take the World's Best Online LSAT Course out for a Free Spin.
See for yourself why tens of thousands of students have gone with our Online Anytime course to improve their LSAT scores.
Interactive Lessons
Effective learning requires true engagement. All of our high-def, professionally animated videos come with in-lesson assessments, brief exercises to keep you engaged in the material and let you know, in real time, if you're learning.
Tons of Practice
Our Online-Anytime course comes with unlimited access to every question released in the history of the LSAT, as well as detailed online explanations of each and every one, most of them high definition videos.
World-Class Instructors
Our online course instructors all have 178+ scores and years of experience teaching the LSAT, so you know you're in the best hands every step of the way.
Mobile-Friendly Interface
Study for the LSAT anytime, anywhere. Our Online-Anytime course is optimized for just about any mobile device, and you get everything through your mobile device that you'd get at your laptop or desktop.
Unlimited Live Help
Tune in 6 days a week for live office hours with a Blueprint LSAT expert instructor. Get help from those same instructors anytime by email. And for any other questions, our superstar support team is there every day of the week.
Flexible Study Plan
The Online-Anytime course adapts to your needs. Arrange your study schedule however you want with our interactive scheduling calendar, and, because it's a no-commitment subscription service, you can use the course -- or take some time off -- whenever it suits you.
Looking for More? Not Ready to Get Started? Check out our other free resources.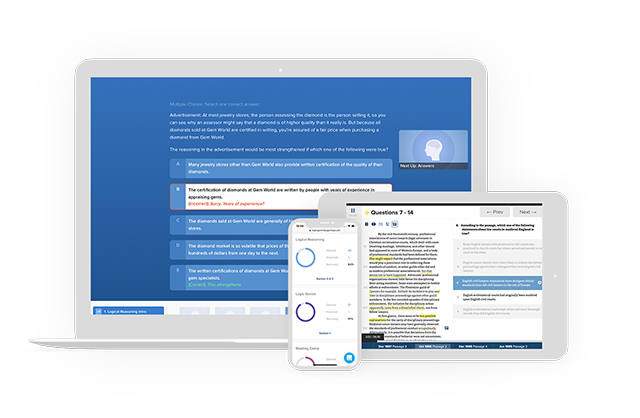 Learn the Secrets to the LSAT Anytime, Anywhere.
Some people have all the time in the world to study for the LSAT. Those people are few and far between, and, if you aren't one of them, you need powerful LSAT prep that fits your schedule and study needs. Because you get 100% of Blueprint's world class Online Anytime LSAT Course on your mobile device -- interactive lesson videos, adaptive homework, customizable practice sets, powerful analytics, even live office hours with expert instructors -- you can study hard and study smart anytime and anywhere.
Rockstar LSAT Instructors, Right in Your Pocket.
It's hard to learn face-down at your desk in a pool of nap drool, but most LSAT prep companies put it on you to keep that kind of mid-lesson loss-of-consciousness from happening. Blueprint, on the other hand, was founded by a group of LSAT instructors with a focus on providing LSAT prep that is fun and entertaining, in addition to being informative and insightful. Our Online Anytime LSAT Course instructors were chosen from among Blueprint's stable of best-in-the-nation instructors for their ability to keep you engaged and alert while kicking down the LSAT wisdom throughout each lesson.
Brooke, +11 Actual Blueprint Student
It's All About You...For As Long As You Need It.
Blueprint's Online Anytime LSAT Course adapts to your needs. Not just your LSAT learning needs, but all of your needs. Need to take a month off of studying to spend a little quality time in Ibiza? And who doesn't, really. Well, you won't get dragged into a months-long contract with the Online Anytime Course like you will with a lot of other online LSAT courses. The course is a monthly subscription service, which means you can take a break and start back up if something big comes up in your life, good or bad. And, if you can finish the course more quickly than most others, you don't have to pay for that last month or more of service for no good reason.
"This is truly a brilliant LSAT Prep program. I actually tried three different LSAT courses, including Kaplan and Manhattan Review. But ONLY Blueprint kept me laughing and totally engaged the entire way through. The staff and tutors are always an email away. They are very HUMAN and very relatable. I ACED my LSAT."
— V.K.
Los Angeles, CA
Try before you buy with our free, no-commitment 7-day trial.
Like it? Our Online Anytime course lets you study as long as you need with a monthly subscription you can start and stop when you're ready. No questions asked.