The Best LSAT Prep Online Course
ON YOUR OWN TIME
The LSAT Keeps Changing and Evolving. And So Do We. The Best Just Got Better.
What Makes Our LSAT Self-Paced Course Even More Effective?
The First & Only LSAT Prep Course with a Personalized Study Plan
No other official LSAT test prep provider has this. Our revolutionary study plan and LSAT online course tool will save you time and take away anxiety from having to figure out what to study when. Just 3 simple steps and our study planner instantly creates a personalized study calendar that syncs to your phone.
Entertaining Content to Keep You Engaged
Other test prep companies can keep using their boring slides with a dull voice over. Our course feels like you're watching a movie. We help you visualize complex deductions and logical principles to help you stay engaged. You'll learn more when it's actually fun.
Powerful Analytics to Fix Weaknesses Faster
Our advanced analytics help you diagnose your weaknesses quickly and on multiple levels - by question type, section, reasoning skill - providing deeper insights into your test-taking performance. The result? You'll make progress faster and with less effort. Who doesn't want that?
The Most Realistic Practice So You're Prepared
You want to practice like it's Test Day. Our practice test exam interface gives you all the features you will find on the actual test plus the ability to practice the 3 or 4-section LSAT. When you combine our test-like interface with Blueprint's amazing explanations and analytics, you get a combination that's guaranteed to boost your score on the actual LSAT exam.
Meet Your Crazy Smart
& Genuinely Entertaining
LSAT Prep Instructors
You'll be spending a lot of hours watching videos of these LSAT expert instructors during your LSAT preparation so go ahead, get to know them a little better. We chose these instructors not only for their top scores but also for their ability to keep you engaged and alert while imparting mind-blowing LSAT wisdom throughout each lesson.
Your Path to LSAT Domination: How Blueprint's Self-Paced Online Course Works
We're proud to bring you the next big thing in LSAT prep... the best just got better with our online LSAT course.
With 15 years of helping students achieve huge score increases on their LSAT, we didn't need to change a thing. But we did anyway with a new online LSAT prep course. Why? We outdid ourselves so you can keep outsmarting the LSAT.

How?
A first-of-its-kind official LSAT prep Study Plan tool instantly creates your perfect study calendar at the click of the button
68+ interactive learning modules break down the lessons into digestible chunks of easier and quicker learning
Each learning module intersperses entertaining and engaging videos with quizzes to ensure you are retaining concepts and not falling asleep!
Updated to reflect the 2023-2024 LSAT test & interface
Amazing analytics help you spot and fix weaknesses faster
Over 9,000 real LSAT questions with the absolute best explanations
The most extra support (free live review sessions & proctored exams)
Every released LSAT item with full, in depth explanations
AI-powered Qbank with 7,500+ questions to personalize your practice sets and supercharge your studying
Want to Try Before You Buy?
Start With a Free Account
Get Access to 8 Learning Modules, the Study Planner Tool, a full-length practice exam with full explanations and analytics - all for free!
No credit card. No commitment. Try it for as long as you'd like.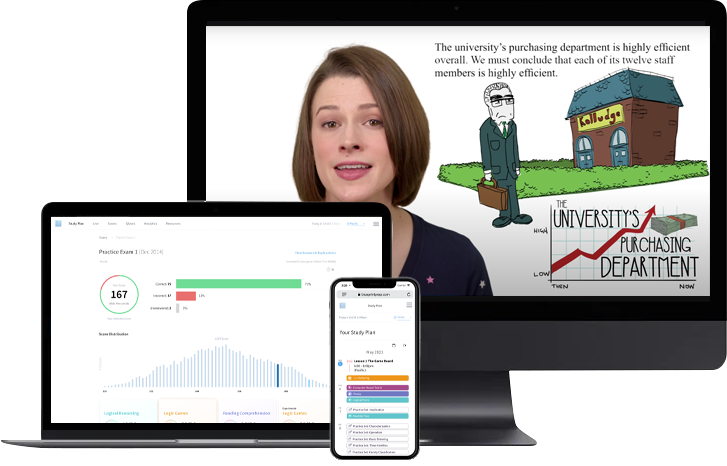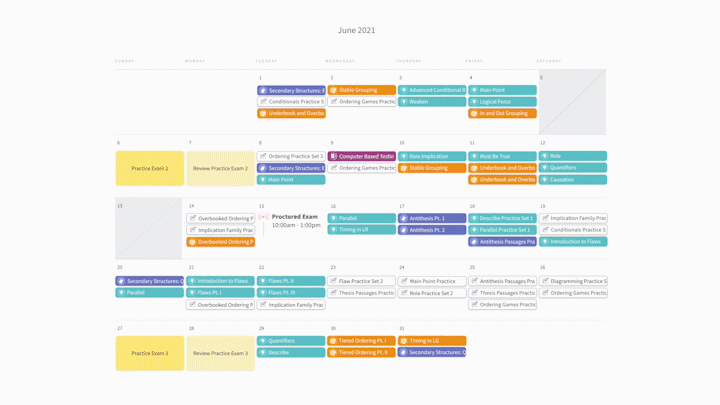 The First and Only
Personalized LSAT Study Planner
We take all the stress out of planning what to study when, and for how long. In just 3 easy steps we'll create a customized study calendar, perfectly aligned with your schedule to get you where you need to be by test day.

If your schedule changes or you fall a little behind, simply drag and drop the assignments and the study plan automatically re-adjusts. Our Self-Paced Online Course is all about flexibility and personalization.

And did we mention that your personalized LSAT Study Plan syncs to your phone? We make it easy for you to stay on track.
Visually Stunning
Uniquely Engaging Videos
Other LSAT prep videos will put you to sleep. And you aren't likely to learn much while sleeping. We bring the material to life using fun animations and memorable illustrations to keep you awake and help you retain more.

The other test prep companies providers can keep pushing their powerpoint slides with a boring voice over. Our course feels like you are watching a movie. And let's face it, you'll learn more when you're having fun and actually looking forward to prepping.
Our videos help you visualize complex deductions and logical principles — in a way that textbooks and powerpoint can't — to help you more effectively retain concepts.
Mobile-friendly format. Feels and looks like an app on mobile without having to download anything.
Video player with all the controls you're used to on streaming platforms (e.g., ability to pick-up where you left off, speed control, skip backwards & forwards)
Our platform adapts to your Wi-Fi speed to help prevent buffering on weak WiFi!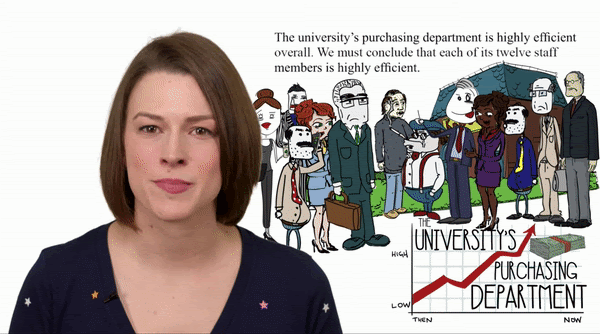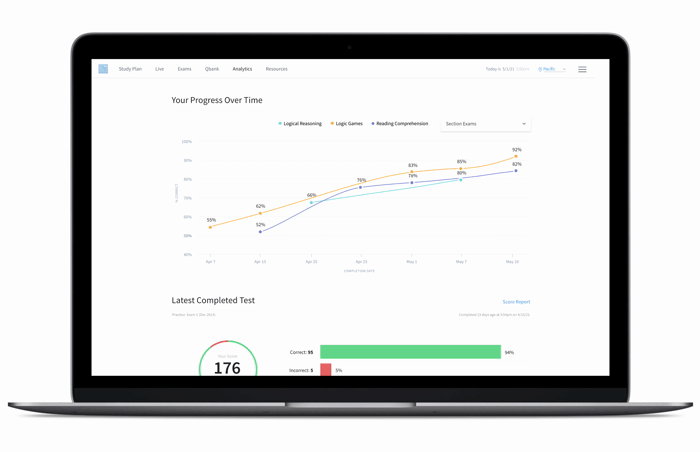 The Most Advanced Analytics
So You Can Find & Fix Weak Areas Faster
Learning your strengths and weaknesses will be crucial on your LSAT journey, and that's why Blueprint offers detailed, easy-to-read LSAT score reports for every exam in the modern history of the test. But that's not all:
We show you not only what you got right or wrong, but why AND the underlying patterns by section, by LSAT reasoning skill, and by question type so you can spot your weaknesses faster and get better quicker.
Wonder if you tend to guess right first then switch to the wrong answer or vice versa? Wonder no longer! We show you so you can reverse that habit before it sticks.
Our intuitive data visualization makes it easy for you to spot patterns quickly.
And when it comes time to fix those weak areas, our AI-powered Qbank makes creating custom practice sets easy with just a click of a button.
Custom Practice Sets
Tailored to What You Need
You get our AI-powered Qbank of over 7,500 questions with answers and detailed explanations. Here's what else you can do:
Create custom practice sets by section, specific question types or specific game types.
Choose a fixed level of difficulty or allow our system to adapt the level of difficulty to where you'll maximize performance.
Do your practice sets in exam mode for test-like experience or question-by-question mode so you can see the answers & explanations to learn as you go along.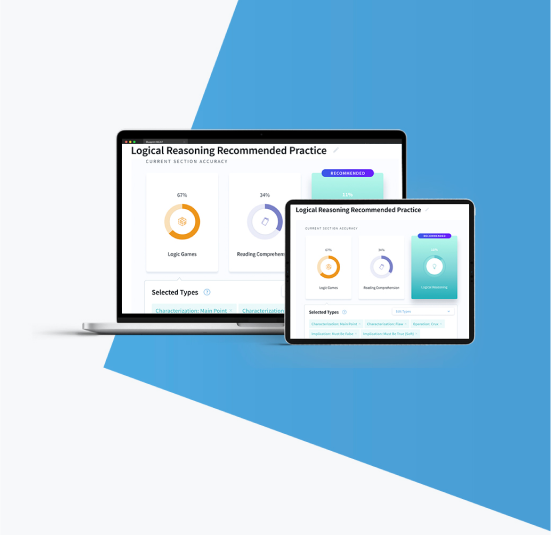 The Most Realistic:
Updated for the 2023-2024 LSAT
The LSAT keeps changing and evolving. And so do we. Why? So that you can stay 10 steps (er, 15 points!) ahead of the LSAT.

We've updated several aspects of our self-paced online course to be the most representative of the 2023-2024 LSAT exam. Here's how:
We offer practice exams in 2 formats: Flex (3 sections) or Full (4 sections). No matter how the LSAT changes, we've got you covered!
Up-to-date strategies for all sections of the current LSAT
Our updated

Reading Comprehension

method will retrain you on how to read and annotate passages for maximum efficiency and accuracy
Our exam interface gives you all the features you will find on the actual LSAT test so there won't be any surprises on Test Day.
Personal Support &
Extra Resources
You may be studying at your own pace, but you aren't alone. Blueprint's Self-Paced Online Course students have access to live Office Hours with top LSAT Instructors almost every day of the week.

Office Hours are 2-hour long online review sessions that deep dive into a particular LSAT reasoning question type or practice exam question, working through real LSAT material, answering your questions along the way.
Access to live Office Hours (review sessions) with LSAT instructors 6 days per week; easy to schedule online and add to your Study Plan!
Access to recordings of the Office Hours you sign up for.
Access to live online proctored exams with actual proctors giving real-life instructions to simulate the in class test-day experience.
You'll feel even more confident and relaxed, knowing what to expect on the actual exam day.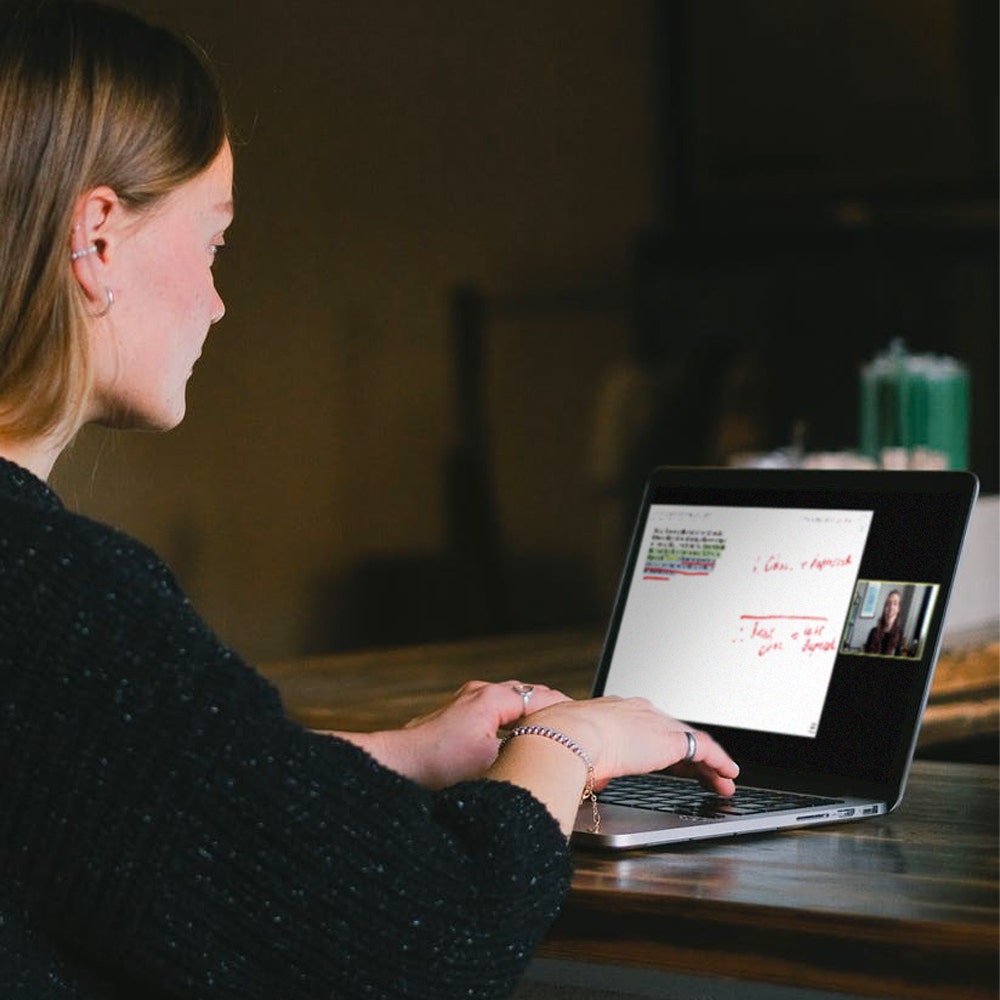 Ready to Get an Amazing LSAT Score?
Choose a Plan
We know we have the best LSAT course, but don't take our word for it.
See what our students had to say!