REACH YOUR TOP SCORE WITH
Personalized MCAT® Tutoring

Customized to You
Our MCAT tutoring packages provide the most personalized approach to MCAT prep with a 1:1 approach crafted to fit your unique learning style.

Expert Tutors Matched to You!
Over 90% of our MCAT tutors are 520+ scorers and have the the proven expertise to help diverse students of all skill levels at every point in their MCAT prep.

Personalized MCAT Strategy
Your private tutor will work with you to personalize your study schedule and assess your diagnostics to develop a plan that teaches the best test-taking strategies for you.

Tutor-Managed Study Plan
Your private tutor is your MCAT expert, and they'll manage, set, and customize sessions and assignments within our Study Planner tool to optimize your tutoring plan and fit prep into your busy schedule.

Engaging Online Learning
Our Core and Premium tutoring packages give you access to all the learning modules of our MCAT Self-Paced Course, including engaging video lessons, quizzes, and advanced analytics.

Live Instruction
In addition to your private MCAT tutoring time, you have access to 12 hours of live group lectures every week, led by one of our top-scoring MCAT experts.
Expert MCAT Tutors
Our private tutors combine the most MCAT expertise (521 average scores!) and years of experience in the industry. We only hire tutors with the proven ability to help students of any skill level and at every point in their MCAT studies. All our tutors go through a 4-step screening process and rigorous training with the most current version of the exam. They know how to teach it in an engaging way, so their students achieve top MCAT scores.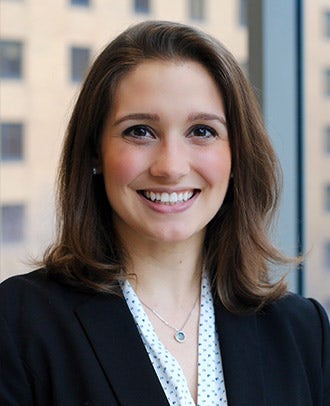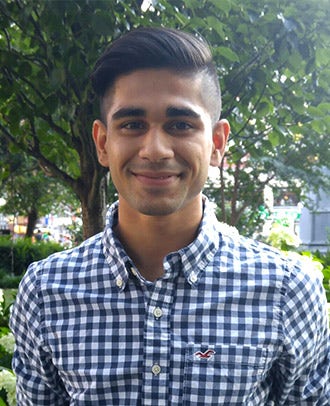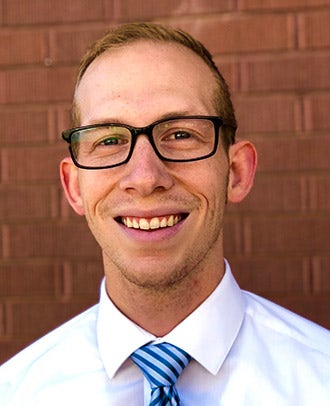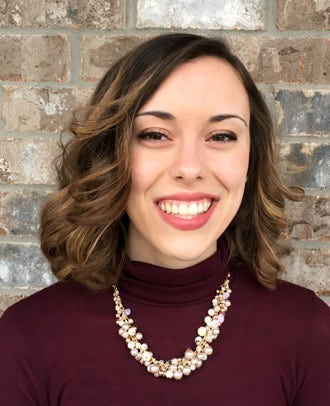 Learning On Your Time
Your private tutor works with you to create a customized MCAT tutoring schedule and study plan.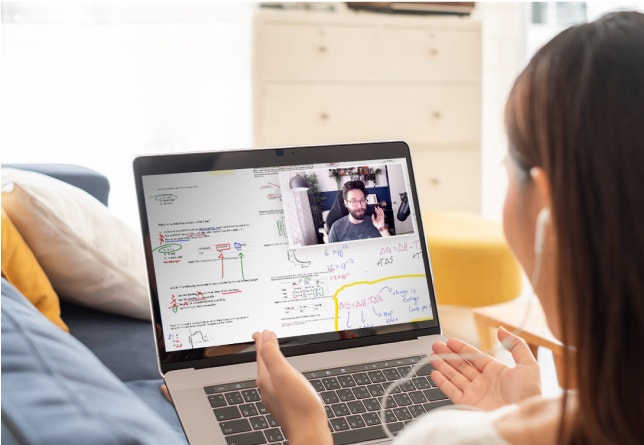 Fit To Your Schedule
Let us know when you want to get started and how much time you can put in each week, and we'll customize a MCAT tutoring program to fit your availability.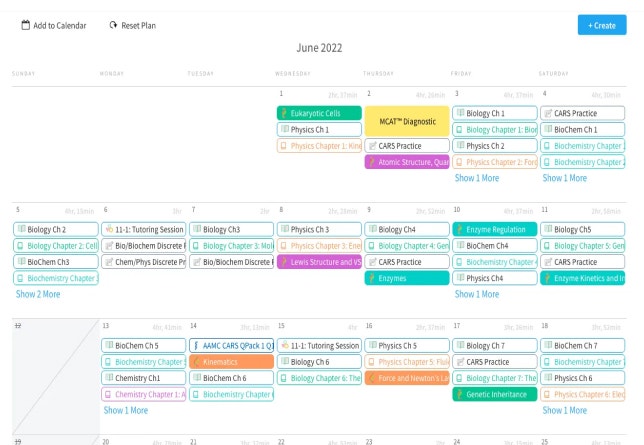 Flexible Study Plan
Your tutoring is seamlessly integrated with your schedule in our Study Plan tool, keeping all your tutoring sessions, notes, assignments, and resources all in one place.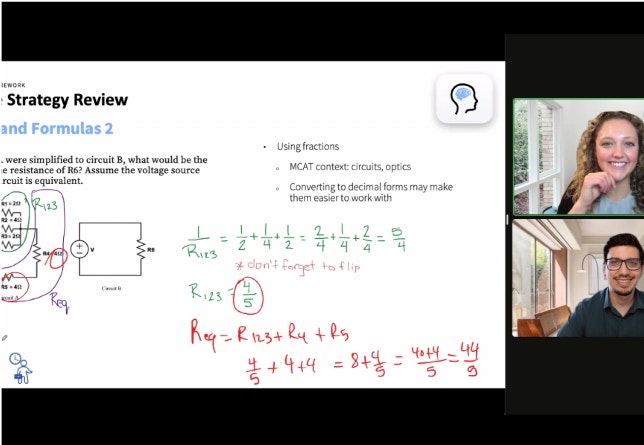 Daily Office Hours
Supplement your tutoring hours with online review sessions with our top MCAT experts, available 6 days per week.
Materials and Methodologies
One-on-one coaching plus a lot more.
Representative Practice Exams
The Best Online MCAT Prep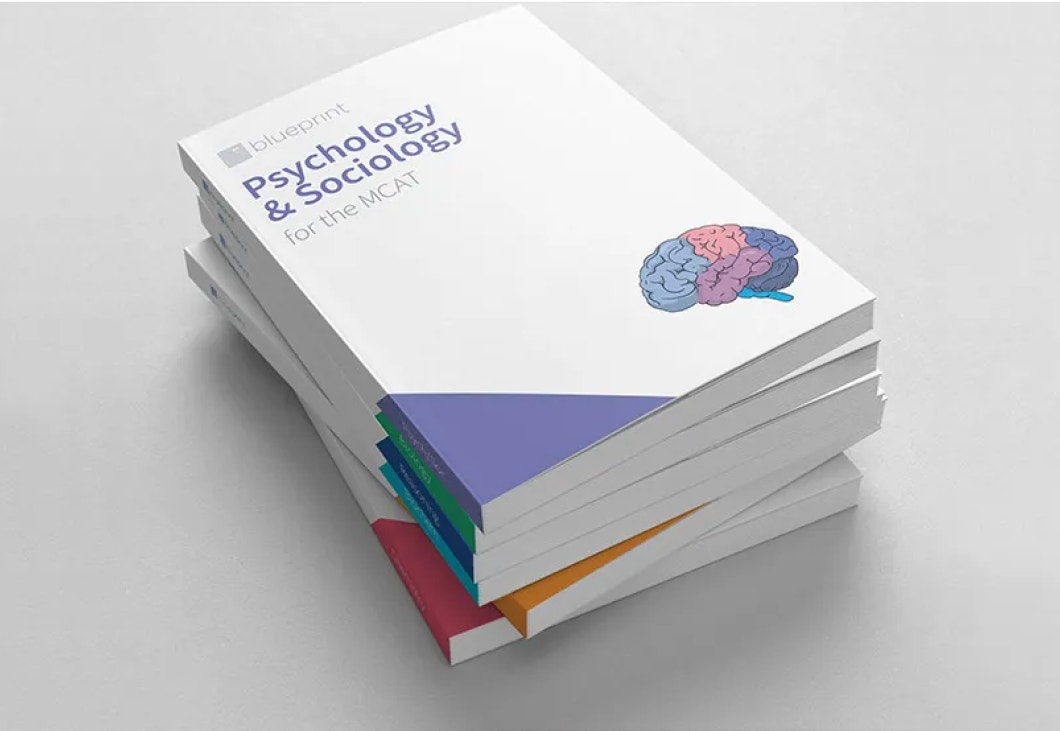 MCAT Tutoring Prices and Packages
Whatever your needs, Blueprint has a tutoring package that will get the results you need at a price that fits your budget. Most of our tutoring packages come with access to our world-class self-paced MCAT course and 12 hours per week of live-online office hours with an MCAT expert instructor.
ALL TUTORING PACKAGES INCLUDE:
Completely Personalized Study Plan Written by Tutor
12 hours of additional group lectures every week!
15 Full-length Practice Exams
NEWLY UPDATED BOOKS! Revised to reflect the most recently released AAMC exam
All Online AAMC Practice Resources
AI-powered Qbank with 4,000+ questions
Completed Over Min. of 1 Month
NEW! 1,600+ Customizable Flashcards
Lessons Learned Journal Our structured note-taking tool that integrates personal insights into your prep for more efficient, guided review.
A $300 credit towards an Admissions Consulting (Core plans)
16 hours
Essential Plan Core
6 Months of Access to Blueprint's MCAT Self-Paced Course ($1,999 Value)
$3,599
Monthly payments available with
Learn more.
24 hours
Comprehensive Plan
6 Months of Access to Blueprint's MCAT Self-Paced Course ($1,999 Value)
$4,449
Monthly payments available with
Learn more.
40 hours
Intensive Review
6 Months of Access to Blueprint's MCAT Self-Paced Course ($1,999 Value)
$6,499
Monthly payments available with
Learn more.
PREMIUM PLANS ALSO INCLUDE:
Work with one of our premium, 520+ scoring tutors
12-month access to MCAT Self-Paced Course ($2,699 value)
$600 credit towards any Admissions Consulting package when you start applying to med schools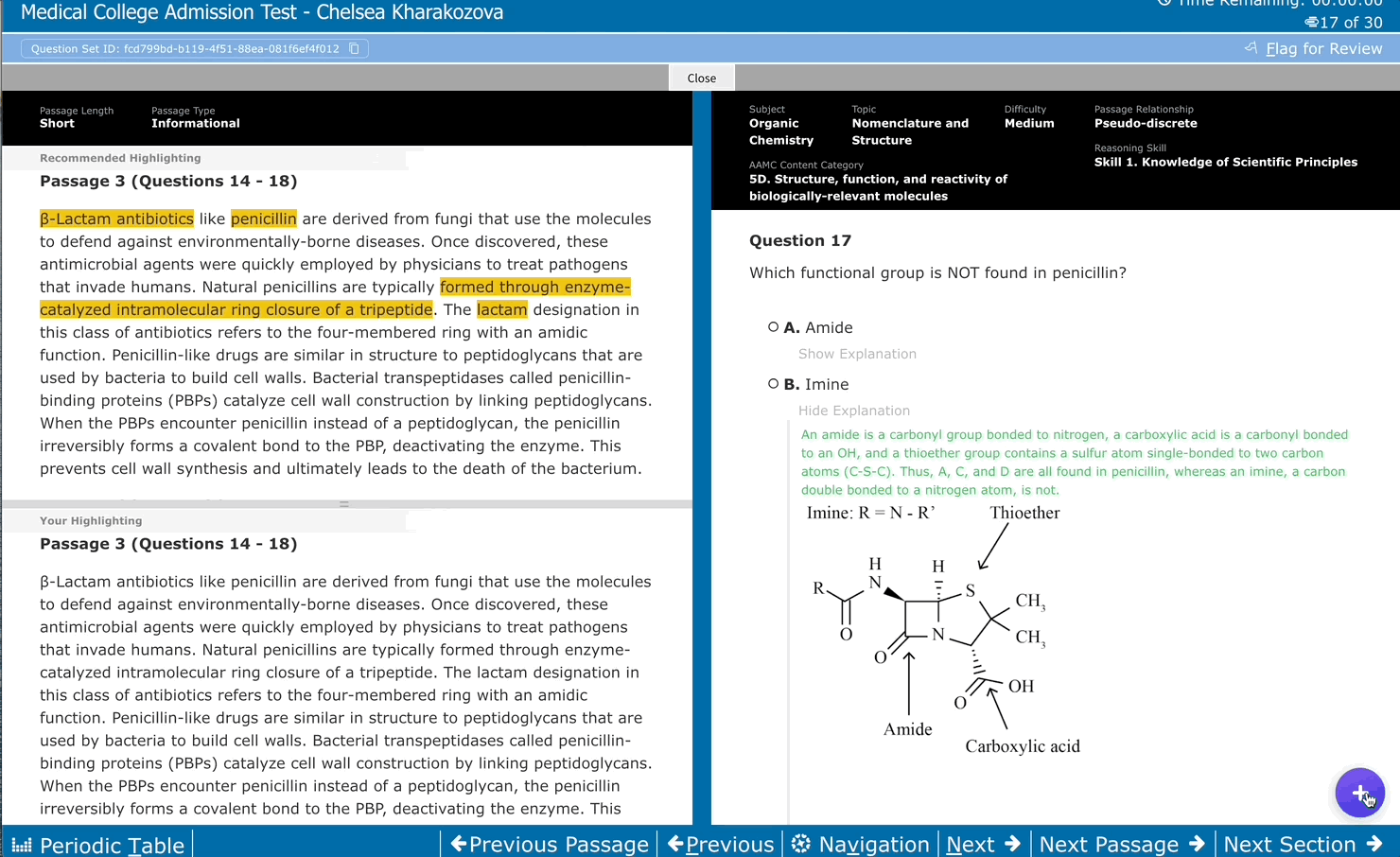 NEW
LESSONS LEARNED JOURNAL
We've got your note taking covered with the Lessons Learned Journal. This new tool fully integrates with your Blueprint MCAT prep, so you can create a "lesson learned" entry for the concept you're studying, anywhere on the platform!
Seamlessly create consistent notes with structured journal entries

Personalize with your insights and takeaways to boost retention

Choose how you want to revisit the material: flashcard, module, book, or other to-do

View all your entries in one place to streamline and prioritize your review
Questions?
Request a free consultation with an MCAT advisor to find the tutoring package that's right for you.

You'll Love MCAT Tutoring — Guaranteed!
Switch Tutors Anytime
If you are not happy with your tutor for any reason, we will re-match you with a new tutor free of charge.
Score Increase Guarantee
Elligible tutoring learners who do not increase their official MCAT score qualify for our score increase guarantee.
What MCAT Tutoring Students Are Saying:
Frequently Asked Questions
No two Blueprint MCAT tutoring programs are the same, because every MCAT student's journey is unique. Whether you're just beginning your prep journey or seeking a new approach to reach a higher score, you can benefit from the guidance and expertise of a Blueprint MCAT tutor. Your personal tutor will work with you to diagnose your strengths and weaknesses, create a customized MCAT tutoring schedule and study plan, and coach you to your goals. Blueprint MCAT tutoring is perfect for students who:
Are just beginning their MCAT test preparation
Plan to retake the MCAT for a better score
Need expert guidance to achieve their goal MCAT score
Want one-on-one support and a customized curriculum
Are preparing to take the MCAT and want a final chance to review
At Blueprint, we understand that there is no one-size-fits-all approach to MCAT prep. Our MCAT tutors are trained to assess and cater to each student's unique study requirements. Instead of adhering to a rigid curriculum, our private tutors develop personalized plans tailored to individual needs. They can assist with specific sections, question types, or concepts, identify your strengths and weaknesses on the exam, create an effective study plan, and guide you in practicing with different problem sets. This customized approach to MCAT tutoring is what sets Blueprint apart as the best in the industry!
We put the "personal" in personalized tutoring by pairing you with your perfect MCAT tutor. Here's how it works:
Choose an MCAT Tutoring Program

Start by requesting a free consultation with a knowledgeable Senior Advisor from our Student Success Team. During this consultation, your advisor will discuss your specific needs and MCAT goals to determine the ideal tutoring program for you.
Tell Us About Yourself

After enrolling in your tutoring program, you will receive an email questionnaire from your Senior Advisor. This questionnaire gives you the opportunity to provide more details about your background, MCAT goals, and preferred study style. These insights will help us match you with the best MCAT tutor for you.
Meet Your Expert MCAT Tutor


Based on the information you provide, your dedicated Senior Advisor will carefully pair you with an expert MCAT tutor who has achieved an impressive 97th percentile score. Within just 2-3 days, you will be connected with a highly qualified tutor who aligns with your unique requirements.
Follow Your Tutor-Managed Study Plan

Your MCAT tutor will work with you to build your Study Plan and manage your assignments through our integrated Study Plan tool. It's all your tutoring, all in one place.
We understand that sometimes students have specific preferences when it comes to choosing an MCAT tutor. If you have a specific tutor in mind, whether it's due to a recommendation from a friend, attending a MCAT webinar where you liked a particular tutor, or reading a positive review about a tutor's MCAT expertise, you can request to work with that tutor in your initial meeting with one of our dedicated Senior Advisors. This meeting is also a great opportunity to mention any other factors that may be important to you in finding your perfect MCAT tutor like time zone, specific content expertise, background, ESL experience, gender, and/or accommodations experience. Your Student Advisor make every effort to accommodate your request and pair you with your preferred MCAT tutor.

However, in the event that it is not feasible to match you with your requested tutor, please rest assured that we will still assign you a highly qualified MCAT expert who possesses similar strengths and traits. All of our MCAT tutors are extensively trained and experienced in MCAT preparation, ensuring that they are fully equipped to help you achieve your MCAT goals.
We have comprehensive policies in place to ensure a smooth and successful MCAT tutoring experience. To learn more about our tutoring policies, including information on homework, cancellations, code of conduct, and adding additional hours, we recommend reviewing our help article on
Tutoring & Admissions Consulting Policies
. If you have any further questions or concerns regarding our policies, feel free to reach out to our Student Success Team for assistance.
The MCAT tutoring packages we offer cater to different needs and study preferences. Here's a breakdown of the differences between our Premium, Core, and Supplemental packages:
Premium MCAT Tutoring Packages:

Our Premium packages provide comprehensive support and resources for your MCAT preparation journey. With a Premium package, you'll have access to our study materials for an extended period of 12 months. This gives you ample time to utilize our online MCAT prep materials, including engaging videos, lessons, quizzes, and advanced analytics. Additionally, you'll have the opportunity to work with one of our highly qualified premium tutors who have proven expertise and a track record of success in MCAT tutoring.
Core MCAT Tutoring Packages:
The Core packages are designed for students who prefer a focused and efficient MCAT preparation experience. With a Core package, you'll receive 6 months of access to our study materials, which encompass a range of valuable resources to support your MCAT studies. These resources include online lessons, practice questions, and other tools to enhance your understanding of key MCAT concepts and improve your test-taking skills.
Supplemental MCAT Tutoring Packages:
Our Supplemental packages are ideal for students who already have study materials or have completed a Core or Premium package but wish to add additional tutoring hours. With the Supplemental package, no additional study materials are included, as it is intended for those who already possess the necessary resources. This package allows you to focus on targeted tutoring sessions and receive personalized guidance from our expert MCAT tutors.
Our Student Success Team are experts on our MCAT tutoring packages and will match you with the program that best suits your specific needs. Reach out via chat, phone, or
schedule a free consultation
.
Leave site?
You will be taken to another Blueprint Prep company site or one of our partners. Do you want to continue?
Free Consultation
---
Request a consultation with an MCAT Advisor, or call 888-530-6398 for immediate assistance.