Next Step is now Blueprint MCAT FREE MCAT EXAM & OTHER RESOURCES
Free MCAT Question of the Day
Sharpen your MCAT skills in just a few minutes a day with the MCAT practice question of the day written by our 99th+percentile instructors.
1600 Free MCAT Flashcards
Get access to 1,600 customizable MCAT flashcards covering high-yield content combined with spaced repetition, best-in-class analytics, and an achievement system you'll love.
MCAT Content Checklist & Other Guides
Even more free MCAT downloadable content to help you on your journey to medical school.
Free Live Webinars
Meet our MCAT tutors and instructors live online via our pre-med webinars.
Recorded Webinars
Experience Blueprint MCAT webinars at anytime with our recorded webinars.
Sign up for a Free Account and get all 6!
The Blueprint MCAT (formerly Next Step) Free Practice Account
Get a head start on the MCAT (Medical College Admission Test) without paying a penny. Here's what our free practice account includes:
1,600+ customizable flashcards covering high-yield content

A half-length diagnostic MCAT to give you a performance baseline

A full-length free MCAT practice exam with answers, detailed explanations, and analytics

7 Learning Modules (one from each subject area) from our self-paced MCAT Online Course, proven to increase student scores by 13 points on average

Access to our Study Planner tool

Question of the Day emails, content review videos, and much more

Attend 2 Free Office Hours sessions of your choosing and prep LIVE with our expert instructors
Get the Free MCAT Practice Account
Free MCAT Practice Account Features and Benefits
Carefully Crafted MCAT Practice
All Blueprint MCAT preparation (formerly Next Step) content, including the half-length diagnostic and full-length practice exam available in the Free Practice Account, was created by our elite content team. Our content developers combine years of MCAT teaching experience and their own top MCAT scores with obsessive attention to the details of a constantly changing exam.
The Most Advanced Analytics
Each Blueprint MCAT practice exam comes with an advanced analysis of your performance by subject, AAMC reasoning skills, and question type so you can focus studying efficiently and effectively. Even if you don't purchase MCAT prep from Blueprint MCAT, you'll still be able to use what you've learned to move toward your goal score.
A True Exam MCAT Test Day Experience
Blueprint MCAT spares no effort in ensuring that our students know what they're up against and have the tools they need to perform on their MCAT. That's why we built a testing interface that is functionally similar to the current, official AAMC (Association of American Medical Colleges) testing interface. Get a representative look at the MCAT with the Free Practice Account.
The Latest MCAT Content
The MCAT has changed radically in the past few years, and material created for the old MCAT exam just won't cut it. Our passages, written by MCAT experts, accurately reflect the experimental focus and bio-heavy nature of the modern exam, with absolutely no recycled passages written for the old MCAT.
Exhaustive Explanations
Each question in the Free Practice Account includes a detailed explanation. Our diagnostic and full-length free MCAT practice tests are full of careful descriptions explaining why the correct answer is the best choice and why each incorrect answer is wrong.
Support When You Take the Next Step
We're confident you'll like what you see as you work your way through the Free MCAT Practice test Account resources, and when you decide to continue on the path to MCAT success with Blueprint MCAT our dedicated support team is there seven days a week to help you find the right MCAT study option for you.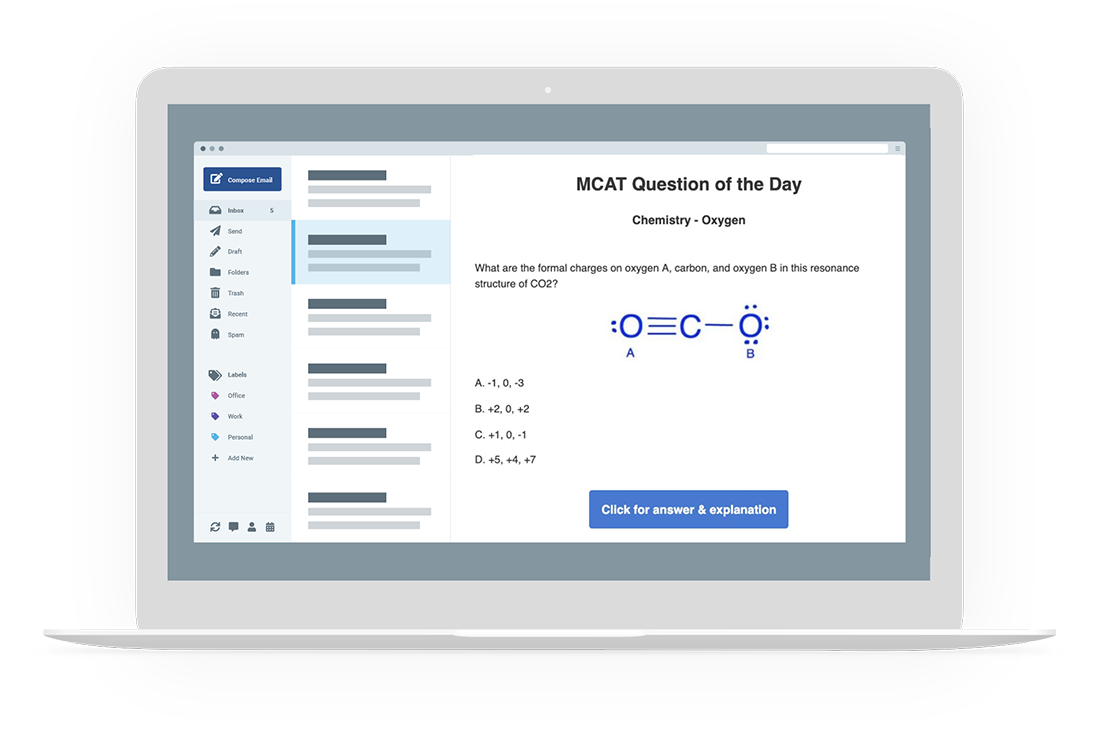 Question of the Day Delivered to Your Inbox
Each of our Questions of the Day is written by one of our elite 99th+ percentile instructors and comes with a helpful explanation. This is a great way to sharpen your MCAT skills in just a few minutes, and, regardless of whether you purchase MCAT prep with Blueprint MCAT, each Question of the Day is yours to keep.
calendar
Free Upcoming Pre-med Webinars & Events
Blueprint MCAT (Medical College Admission Test) is dedicated to providing pre-health students and advisors with great free webinars and events throughout the year.