EVERYONE SHOULD BE ABLE TO GET A GREAT MCAT SCORE
MCAT® Financial Aid
We understand that prepping for the MCAT is a substantial investment, and we're here to help.
We offer reduced tuition scholarships for students who are part of AAMC's Fee Assistance Program. For qualified students, tuition is discounted at 50%. Reduced tuition only applies to MCAT Live Online Course programs of 6 months or more, MCAT 515+ Course, and MCAT Self-Paced Course programs of 6 months or more. Reduced tuition does not apply to tutoring, QBank, or exams. Qualifying students are eligible for 30% off extensions after the initial purchase was made.
Receiving tuition reduction is a two-step process:
Email verification of your fee assistance approval from AAMC to mcat@blueprintprep.com. Students must submit their AAMC fee assistance approval before enrollment.
A member of our Student Success Team will be in touch within 2 business days.
We recommend contacting AAMC as soon as possible to begin the fee assistance process, as it may take several weeks to be approved. Please note that we can only honor those who have been fully approved for fee assistance, and students must enroll in the course before the end date of benefits listed in their award letter.
Only first-time students qualify for reduced tuition. Cannot be combined with any other promotions or discounts. After enrollment, no retroactive scholarships can be applied. Students may not switch from the MCAT course covered by the financial aid discount into one-on-one tutoring for a discounted rate. Reduced tuition only applies to the recipient of fee assistance; enrollment is non-transferable.
Below is an example of the Fee Assistance Program verification from AAMC: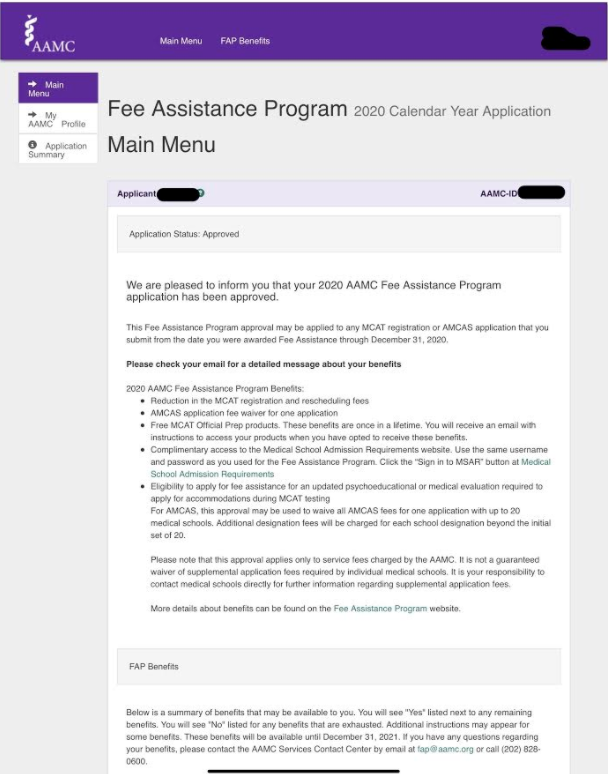 For more information on eligibility and requesting fee assistance, please visit the AAMC website.
Questions about Blueprint financial aid? Email info@blueprintprep.com. For information on other discounts, click here.